Sunday, June 16, 2013
Dipped Flower Pot Tutorial (Without Dipping)
We're having a long, cool spring in Indiana. It's front porch weather, and I've been drinking a lot of sun tea and brainstorming ways to make our front porch prettier.
I was inspired by
this bowl
from Target:
For this project I needed: pots (mine were plastic), potting soil and flowers, paint, and masking tape/newspaper.
First, tape off your pots to get a nice clean line so they look dipped.
Spray as directed. I used a Valspar interior spray paint, and finished it off with an exterior clear coat.
Peel off the tape and paper, and let the paint cure before you do any potting. Drill a hole in the bottom of your pot if there isn't one already.
Plant!
And show them off.
I took these pictures as a rainstorm was rolling in; they're a little shinier in real life, sort of like the kick plate on that storm door that I hate.
I also painted the front door this weekend! Still waiting for the paint to cure and then I'll put up pictures.
Update: Check out my painted front door HERE. Spoiler alert ... all the daisies died.
I'm linked up at: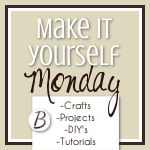 Posted by Heather Vroom
at 8:09 pm